Hyvair's line of pneumatic manual valves is stocked in several types, from lever and toggle to push/pull, button and foot actuated. The push button, push/pull, and lever valves are available with multiple spool and size options. The push button valves are stocked with several button styles and color options.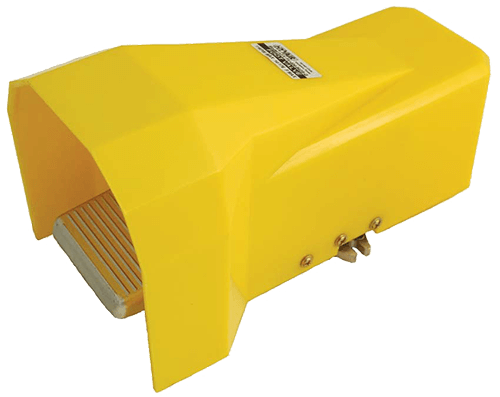 FV Series - Foot Valves
Port Sizes: 1/4"
Maximum Pressure: 150 psig (10.3 bar)
Working Pressure: 0 - 135 psig (0 - 9.3 bar)
Operating Temp. Range: -41° to 140°F
Media: Air (No other gases or liquids)
Operation: Manual - Direct
Flow: Cv = 1.0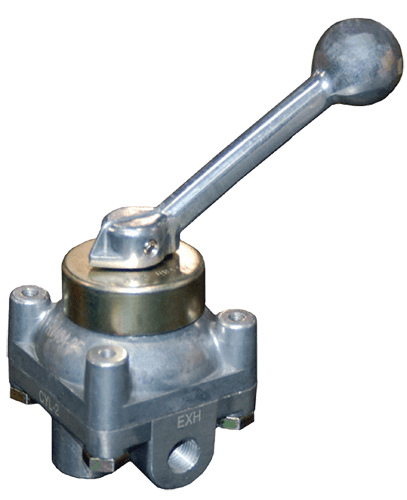 RV Series Rotor Shear™ Directional Control Valves
Sizes: 1/4" & 3/8"
Port Type: Female NPT
Working Pressure: 350 psi
Media Temp.: -40° to 250°F
Detented or Spring Return.
Pilot Valve for Pneumatic Actuators.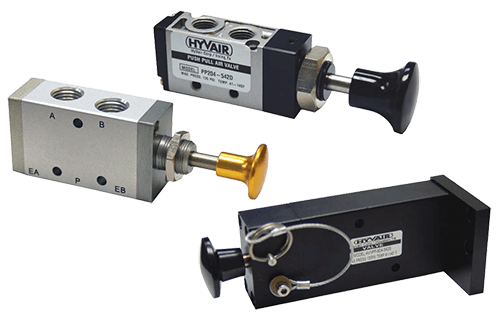 P-PP-AVNPP Series - Push Pull Valves
Port Sizes: 1/4" and 3/8"
Maximum Pressure: 150 psig (10.3 bar)
Working Pressure: 0 - 135 psig (0 - 9.3 bar)
Operating Temp. Range: 23º-176ºF
Media: Air (No other gases or liquids)
Operation: Manual - Direct
Lubrication: None Required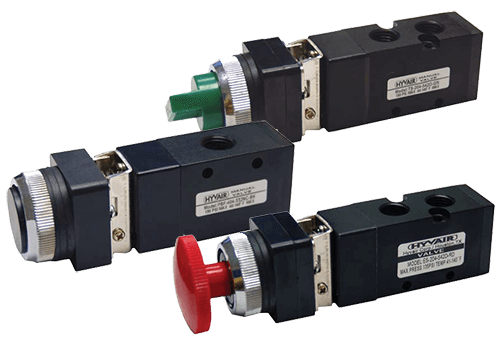 PB-TS-ES Series - Button Valves
Port Sizes: 1/8" and 1/4"
Maximum Pressure: 150 psig (10.3 bar)
Working Pressure: 0 - 135 psig (0 - 9.3 bar)
Operating Temp. Range: 23º-176ºF
Media: Air (No other gases or liquids)
Operation: Manual - Direct
Lubrication: None Required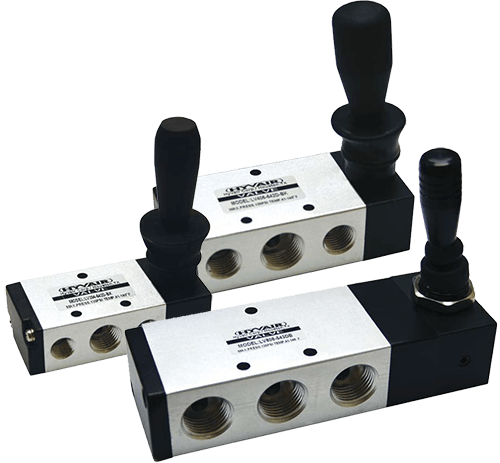 LV Series - Lever Valves
Port Sizes: 1/4", 3/8" and 1/2"
Maximum Pressure: 150 psig (10.3 bar)
Working Pressure: 0 - 135 psig (0 - 9.3 bar)
Operating Temp. Range: 23º-176ºF
Media: Air (No other gases or liquids)
Operation: Manual - Direct
Lubrication: None Required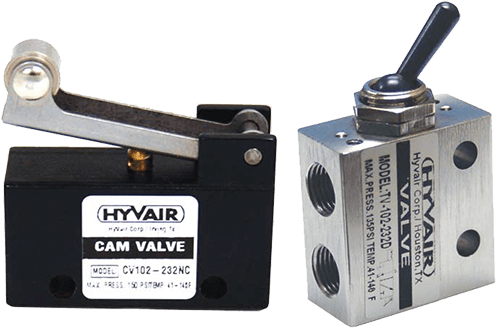 CV-TV Series - Cam/Toggle Valves
Port Sizes: 1/8"
Maximum Pressure: 150 psig (10.3 bar)
Working Pressure: 0 - 135 psig (0 - 9.3 bar)
Operating Temp. Range: 23º-176ºF
Media: Air (No other gases or liquids)
Operation: Manual - Direct
Lubrication: None Required